By A. J. Harrelson
Hannah Labreche sat in the cushy blue chairs of the theater, taking in the distinct dusty smell of the old building. The stage looked weathered and the floorboards creaked with every step, but it was magnificent. Labreche had not spent much time in this part of the room. She was far more accustomed to sneaking around backstage, silent as a mouse, or moving across the stage, fulfilling her dreams of performing.
"They just finished auditions for Tuck Everlasting, so that's pretty exciting," she said, staring longingly at the stage she knows so well. It was as if she could see the ghost of her past self moving about the old stage, living out her passion. It had been months since she had been on this stage. Her bright blue eyes wandered around the room, scanning the balcony and the surrounding blue chairs as she spoke. "I didn't get in the show this time, but I know they'll do a great job."
She twirled her long blonde hair around her finger and continued to survey the room, like someone walking through their childhood home. The nostalgia was so thick in the atmosphere. She crept down the creaky old wooden stairs that lead to the basement, where actors would get into hair and makeup before every show. Warm light flooded the room that was littered with chairs and various makeup kits. There were costumes haphazardly hung up all over the place, It was disorganized and crazy, just like a theater should be.
People like Hannah Labreche are the reason that places like the Westfield Theatre Group are in a community. She is an example of what can happen when someone discovers something that they are truly passionate about. So much passion can be found in a theater. The live performance has a level of energy that many cannot describe. The community of Westfield thrives off of the joy and passion found within the doors of this building.
Westfield Theatre Group is a department of the Westfield Woman's Club that supports the art of live theatre in a small city in Massachusetts. This department has been in existence for the past eighty years, faithfully providing entertainment and theatre education to the city of Westfield. The sole purpose of the Westfield Theatre Group is "twofold: to provide quality live theater to the community and to encourage members of the community to participate in our productions to learn more about theater," as said on their web-page.
This large, Greek revival-styled building stands on Court Street in Westfield. Built around 1914, the building's large pillars and large stone steps leading to a grand blue door framed with decorative glass is a popular part of the city. The building has served many purposes in the past, including being the first building for the Westfield Evangelical Free Church when the church first began. Now, many years later, the Westfield Woman's Club serves as a meeting place for surrounding communities to join in friendship and community service.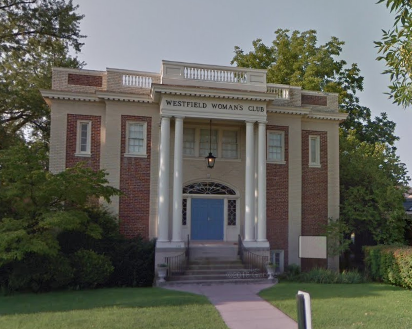 Labreche has been working with the Westfield Theatre Group for several years now. She has been the stage manager for two of the shows: The Night Before Christmas and Holiday Spirit, and she has acted in many more shows, including last year's production of Murder by Indecision. Labreche lamented about her time with Westfield Theatre Group. "I did enjoy it. Honestly it all depends on who you're working with and who is in charge… um, everyone that I've worked with, I've gotten along with," she said, and then smiled fondly before adding, "Ninety-five percent of the time."
Dawson Atkins, another consistent member of Westfield Theatre Group, highlighted his love for this department in an interview. "With Westfield specifically, it was a gateway into a community that I think I really needed. It's a great way to bond with people who you already know have a similar interest. I've met some of my closest friends through it," he said. He smiled fondly at the memories of that grand, battered wooden stage. "And because theatre by nature is so vulnerable—like most arts—it made me feel really close to people much faster than I would have otherwise."
Atkins is one of the many people who finds a sanctuary in the theater. When asked why he thought that theatre was so important to people, Atkins said, "It's a way to channel empathy so that I can better play a part, but that translates into better understanding people in general. Putting yourself into other people's shoes is just a vital part of theatre and I think it has really made me better." It is very clear that theatre is an important element in the arts for many people.
The Westfield Theatre Group appears to be an important part of many people's lives. When asked what this group has done for her, Labreche answered, "It's given me an opportunity to do what I love and show people why I love doing it. It gives me an outlet for my passion. I couldn't be more grateful."