I will admit, I should have trained for a much longer period of time with a much higher intensity before this race. Somehow, I let my old boss convince me to sign up for my first ever half marathon. I had run 7 miles before, what could possibly go wrong if I just wanted to double that? 13.1 miles couldn't be that daunting, could it?
He told me about the Fort Hill Brewery Half Marathon, and it felt a bit expensive to me, but when I saw that you get pizza and beer when you finish, a t-shirt commemorating the race, and a pint glass from the brewery, I decided that this sounded like my kind of race. It was only in Easthampton, which was about 30 minutes away from Westfield State.
I consider myself a weekend warrior when it comes to my running ability, where I try to run about 3 miles per day, with a 5 mile run sprinkled in about once a week. I understand that people reading this may think that is a lot, but in the big picture of running, that is next to nothing. People do 150+ mile ultramarathons, so a half marathon is not anything out of reach.
I just finished listening to the audiobook of Eat and Run, by Scott Jurek, the world's greatest ultra-marathoner. Before that, I had listened to Can't Hurt Me, by David Goggins, who was a Navy Seal, an Army Ranger, and an ultra-marathoner. Before that? I flew through the audiobook Born to Run, by Christopher McDougall, which outlined the secrets of the some of the world's best runners that no one knows about, the Raramuri of the Copper Canyons in Mexico.
I thought that I had a real understanding of what running this race was going to be like. I thought I trained fairly decently, I changed my diet a bit, and I did a few long runs of 8+ miles. I had listened to three fantastic books which I believed had completely rewired my brain into that of a real runner.
Man, was I wrong when I actually heard that starting gun sound off. Mile one felt great, as did mile 2. I was passing people both twice my age and years younger than me, both men and women, running veterans and rookies like myself. I asked a few runners who were talking and having fun, if they had any advice for a first timer? "Pace yourself, and don't run anyone else's race. You'll settle in around mile 3 or 4!"
I thanked them and continued to cruise along at a sub 9-minute pace, thinking that somehow I would be able to keep a pace that would best my usual 7-9 mile runs. I was poorly mistaken, and even though I felt good through about mile 6, after that was when it got difficult. I continued to run, and would only walk while I took Dixie cup water shots at each water station, about every 2-3 miles.
I continued to run at a much slower pace at this point, as a few of the hills and elevation changes challenged me more and more as the race moved on. I ran comfortably through mile 10, but when it got to mile 11, my stomach was growling for some nourishment, and a dehydration headache had started to set in.
You know when you are driving on an empty tank, and you are really just unsure whether or not you are going to make it to a gas station or back to where you need to be? I felt like a car running on fumes, and would have taken even 15 cents worth of gas to give me an extra push.
I felt sick, and those last two miles felt like the longest two miles that I had ever run. I had to run-walk at this point, as I was getting more and more nauseous and thinking of nothing other than my 32 oz Gatorade and the slice of pizza that was waiting for me at the finish line.
The last mile had tested me, especially when I had to run passed the parking lot that my car was parked in, and I thought about just getting in my Jeep and driving away. I could see where I needed to finish, and it felt like it was still miles away. As I approached the finish line, I sped up to look like I wasn't ready to crawl because there were hundreds of people watching and cheering me on.
The last little stretch back to the brewery was uphill, and it wasn't anything crazy, but it felt like I had to ascend Mt. Tom just to finish that last part of the race. I passed two women twice my age in the last 30 seconds (added to show my lack of prime running), and came through the finish line at 2 hours, 15 minutes, and 18 seconds. I was 18 seconds slower than the time that I wanted.
When I crossed the finish line, I got a high five from the race MC, and was handed my Fort Hill Brewery pint glass that was filled with some of the best water I had ever tasted. I peeled back a banana I had brought immediately when my girlfriend handed me my backpack, and I stood there cheering on more finishers while my legs felt like jelly.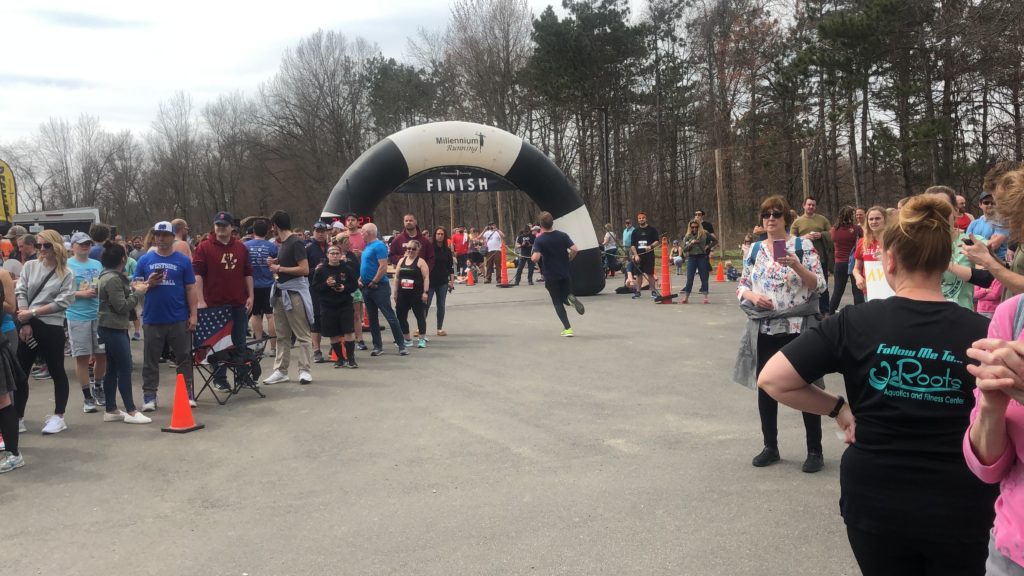 Reflecting on this half marathon, which was on Sunday, April 14th, I could not be more happier that I did it. I am slightly disappointed in my time and my ability, because I thought that I was a real runner after light training and listening to a few audiobooks.
I will continue to train, and I am looking forward to signing up for another half marathon! My message to anyone reading this, is that you can absolutely become a runner. I did so in a span of about 8-months, and you can too. It takes determination, and a real desire to want to better yourself, traits that I believe everyone has inside of them.