Junior Delgado and the entire Career Center did a phenomenal job coordinating both career fairs this semester. The first one was held last Wednesday, 10/2, and focused on business, communication, and technology. There were 31 agencies present which had plenty of employment possibilities, and so much swag! This past Thursday, 10/10, the government, criminal justice, and non-profit career fair was held. I had a great time at both, speaking with many of the vendors and, of course, collecting some pretty cool swag items.
Who knew that there would be so many recent graduates of Westfield State representing and recruiting at both career fairs? Practically every other booth that I went to had WSU Alumni working for that company. It was such a wonderful feeling to see so many former WSU students who are employed, loving their jobs, and that actually returned to give back to the Westfield State community. Seeing this in action made me remember a quote from Michelle Obama at the Convention Speech in 2012.
"When you've worked hard, and done well, and walked through that doorway of opportunity, you do not slam it shut behind you. You reach back and you give other folks the same chances that helped you succeed." I completely agree, and it was so good to see our WSU Owls doing just that.
One of the first booths that I stopped at was for the Logistics Company, J.B. Hunt. To my surprise, Sadiq Walker, a former WSU student who graduated last year, had the biggest smile on his face and gave me a big hug. He was excited to share his experiences about the company with me and how he recommends it for other students to consider. Current available positions are corporate and field internships, an operations manager trainee, and customer service for the Logistics Development Program.
At a different booth, I found another recent graduate who also happened to be my old classmate, Alyssa Celentano. We worked on a fundraising event for our public relations class last year and now she's the director of recruitment and selection for Northwestern Mutual. She says that she absolutely loves her job and that's definitely the vibe I got from her. This company has many internships, and according to their literature, one in three eligible interns converts to a full-time financial representative upon graduation.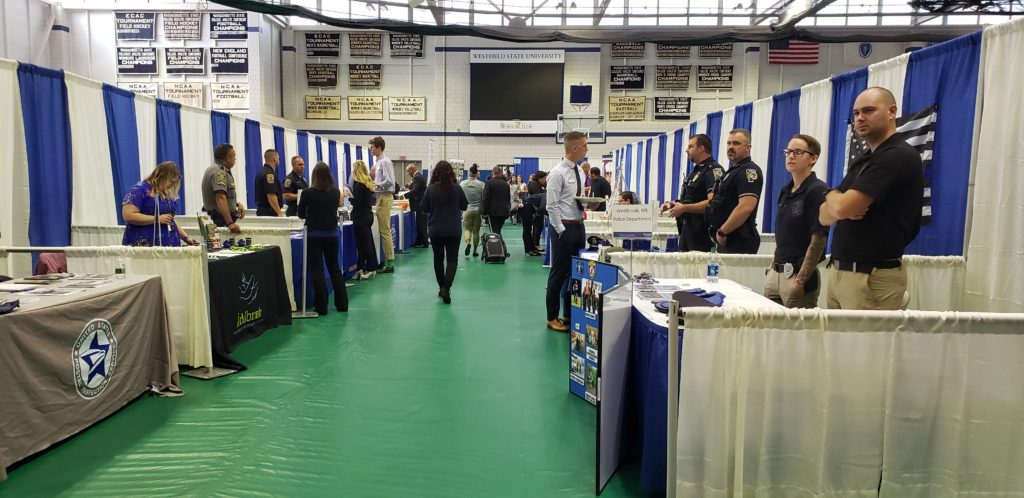 There were 111 government, criminal justice, and non-profit organizations offering part-time positions, full-time jobs, and internship opportunities at the second career fair. I came across a couple of old co-workers from the Hampden County Sheriff's Department at one of the booths. One was human resource specialist Eddie Diaz and the other was Officer Holly, who is now on the K9 Unit. They were very excited as they explained the many opportunities within the department. They also shared stories about the new and innovative programs that Sheriff Cocchi recently implemented.
I went to the booth for Hampden district attorney, Anthony D. Gulluni, and guess who I saw working there? It was another 2019 graduate of Westfield State, Gileny Alvarado!  She told me that she is currently a victim advocate at the DA's Office. She also said that last year she was an intern there and now she has a full-time position.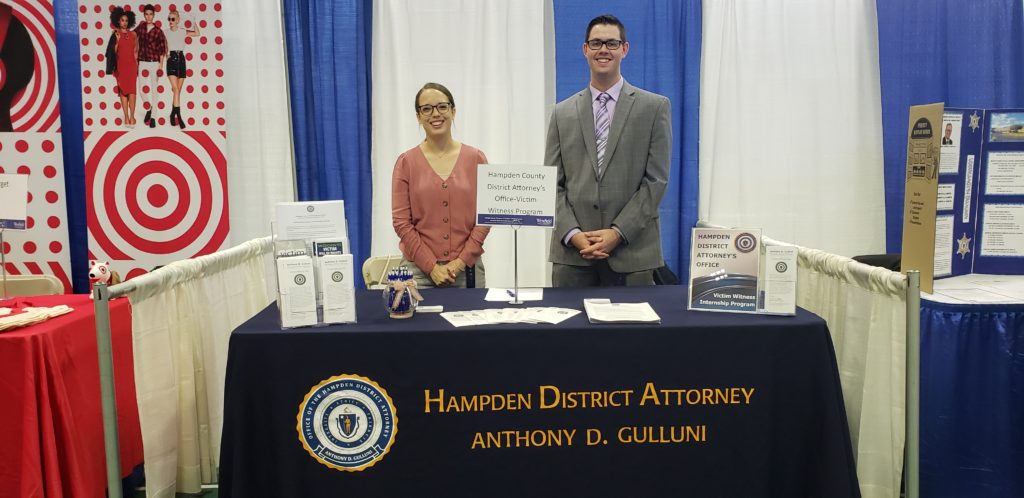 Both career fairs were highly attended, and I can't wait to see how many WSU students get employed by these agencies in the future.