Halloween can be either two things for people: a fun time to dress up and eat sweets or a time to appropriate others cultures. 
When I went on my yearly Sprit Halloween trip, I stumbled across a costume that utterly horrified me. It was a costume labeled rabbi.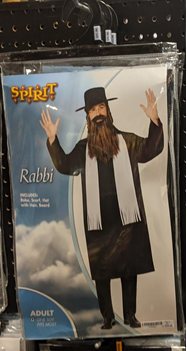 As a proud Jewish man, I find this costume deeply offensive and hurtful. This costume generalizes Jewish people and our culture, by saying that its a Halloween costume. 
It is this attitude that dehumanizes us and makes it easier for people to ignore hate crimes committed against us. Yet, my culture is not the only group that are insulted and dehumanized; there are many others.  
Throughout American history Native Americans have been dehumanized and oppressed, making a costume called "Native American Chief", does the same thing that the "Rabi" costume does to Jews. It turns them into characters, and once again diethazines them. A good example of this dehumanization is Kaitlin Bennet a conservative "activist" who dressed in this type of costume just to make fun of Native American people. 
Another costume appropriation is of the "gypsy" culture as seen below.
A screen grab from Spirit Halloween's website.
The word "gypsy" itself is a slur; it has been used to attack and persecute the Romani people.  This therefore makes it seem like Romani culture is something to be made fun of.
So, for this upcoming Halloween, I urge you not to dress up as someone else's culture; and to instead learn about their culture! If you are having trouble with costume ideas, you could always go as a ghost of someone who appropriated another's culture :).