***This was written for my Honors English 108 class. Enjoy:)***
Adam Sandler, the New Hampshire born comedian rose to fame in the early 90s after being casted on the hit comedy sketch show, Saturday Night Live. While on the show, he wrote and performed in many sketches, including the infamous goofy yet hysterical songs such as The Thanksgiving Song and the Hannukah Song, both performed on the segment titled "Weekend Update." He continued the silly persona that he crafted on Saturday Night Live, into his production company Happy Madison. The movie database, IMDb states that Sandler created this after he was fired from Saturday Night Live.
They most certainly must regret that decision. The first films the company created were Billy Madison (1995), where he played an heir returning to school and Happy Gilmore (1996), an amateur golfer with an anger management issue. After the tremendous success of these films (in total grossing over 64 million USD according to Wikipedia), Sandler turned to romantic comedies and "buddy" films, starting the film reign he continues to reside in today. If you are a fan of the comedian much like me, you may have noticed a few similarities that appear in each film that are stated after this. Adam Sandler's romantic counterparts, his ensemble of characters and wardrobe are the three main similarities that appear in the wonderous Happy Madison world.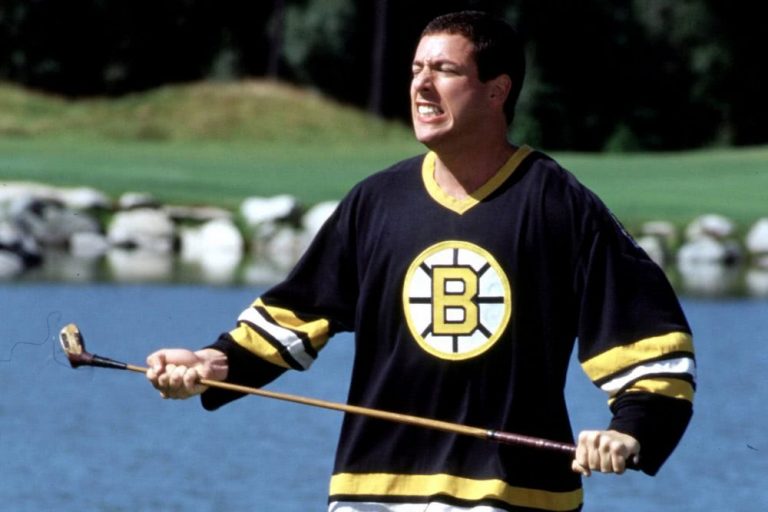 Romantic Counterparts
Any good romantic comedy deserves a worthy couple. Harry and Sally in When Harry Met Sally (1989), Bridget Jones and Mark Darcy in Bridget Jones's Diary (2001), or Simon and Bram in Love, Simon (2018).Regardless of whether you consider the New Englander's comedic films to be "worthy," there are usually strong couples comprising of Adam Sandler himself and a beautiful leading lady. Good Housekeeping divulges into the first romantic comedy that brought Sandler to be considered a "guy that girls could like," according to the movie star himself. This film, The Wedding Singer (1998) was also the first film that Sandler starred in with Drew Barrymore. The duo would then star in the hit rom-com 50 First Dates (2004) and the most recent staring the duo, Blended (2014). Sandler and Barrymore first met in the 90s, while Sandler was starting his production company, Happy Madison. Personally, my favorite movie out of the trio was The Wedding Singer (1998) because of the airplane scene where Adam Sandler professes his love for Drew Barrymore over a plane's intercom in song- whilst being introduced by the legendary Billy Idol.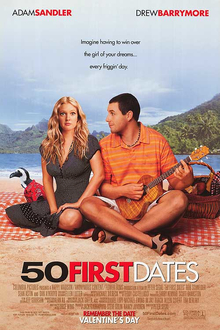 Even though this comedic duo has starred in many films together, Good Housekeeping states that the starlet Drew Barrymore had to beg for an ounce of the comedian's time, even though she herself was already an acclaimed actor. Once the pair met, Barrymore knew they had to work together, and as the famous saying goes "The rest was history." The data base Wikipedia reports that The Wedding Singer (1998) grossed over 100 million USD and was a box office hit, inspiring a Broadway revival of the movie. This brought a stream of good luck as 50 First Dates (2004) made 200 million USD and Blended (2014) with 124 million USD. As for if the romantic films ever inspired a real-life romance between the pair, Good Housekeeping states both Sandler and Barrymore agree that they are better off as friends, both being in relationships with others during filming of each movie. To me, it did not seem like the pair was any more than friends due to having the knowledge of the loving relationship Adam has with his wife Jackie, whom has appeared in many of his movies, along with their two daughters!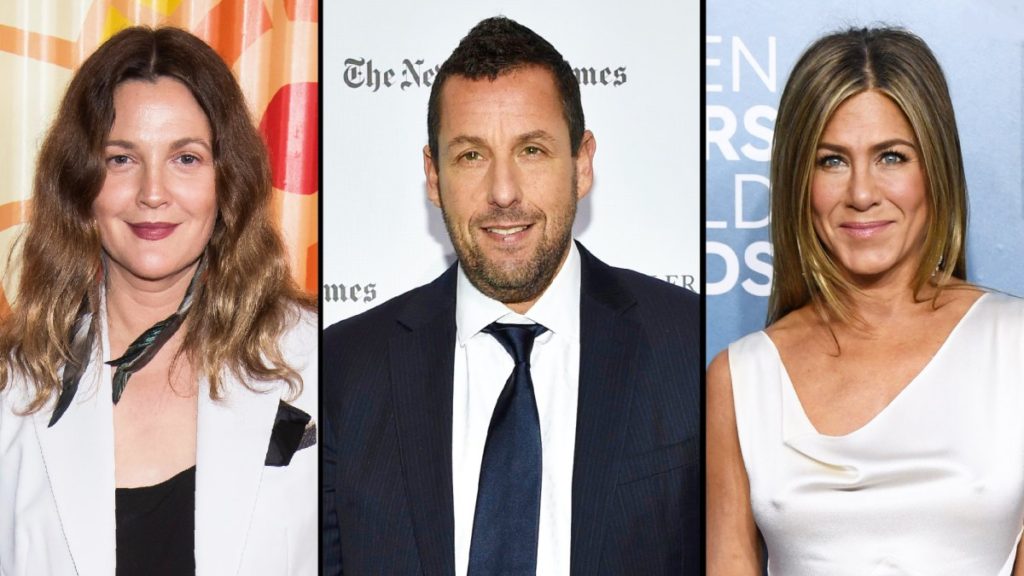 Continuing the popular pattern of casting beautiful leading ladies alongside him, FRIENDS actor and movie star Jennifer Aniston has appeared in many romantic comedies with Adam Sandler. Much like Drew Barrymore and Adam Sandler, this comedic duo met in the 1990s before staring in films together. This must be a trend that Sandler makes movie deals with ladies in the 1990s. As many people know, Aniston starred in the worldwide hit TV show, "FRIENDS" throughout the 1990s and early 2000s. Sandler was also at the top of his A-game with hits like Happy Gilmore (1996) and Big Daddy (1999), just to name a few examples of his success. I have no doubt that this pair would have crossed paths in their similar Hollywood circles. In the article "How Long Have Jennifer Aniston and Adam Sandler Been Friends and What Movies Have They Been in Together?" by Showbiz Cheatsheet; Aniston herself even agreed to the statement that Jimmy Kimmel made that the duo was "friends before FRIENDS." The first film that these two actors starred in together was Just Go With It (2011), about friends that turn into lovers through shenanigans about a fake relationship. This, much like the Barrymore/Sandler movies was also a box office hit, grossing 215 million USD.
This duo has not starred in as many films as Barrymore/Sandler, but the most recent film of Aniston/Sandler was the Netflix Mystery/Comedy Murder Mystery (2019), about a murder that occurs when a high-class couple is on vacation. It was deemed mediocre in plot but grossed the highest streamed film premiere in 72 hours (about 3 days) for Netflix. Personally, I watched this movie when it came out and I could not get through the whole thing due to how bad the plot was. This was disappointing for me since I am such a huge fan of both actors and expected more from them! Yet, there is no doubt that Sandler knows how to create chemistry with some of the most prolific actors in Hollywood.
Recurring Ensemble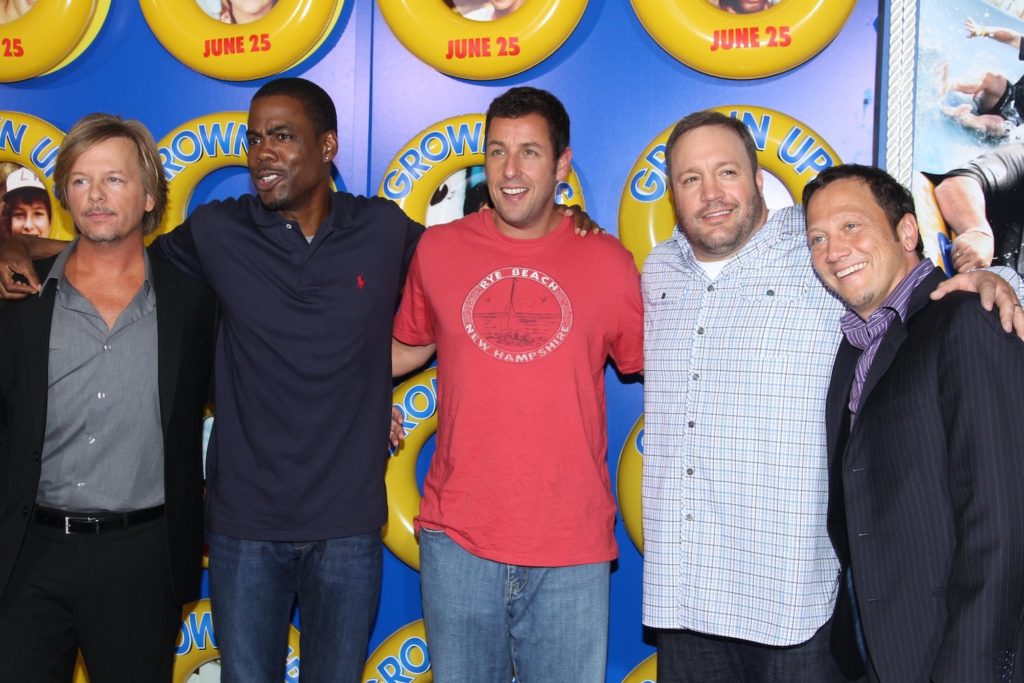 It is no secret that the "Sand-Man" casts his friends in a bunch of his films and productions. I was talking with my mother about this today in fact, since both she and I share an infinity for Mr. Sandler. My mother even met him in the early 1990s when he was touring colleges- I think we still have the picture! According to the list article "7 Celebs Adam Sandler Never Works With (And 8 He Always Does) by TheThings. The group that Sandler usually works with are David Spade, Steve Buschemi, Kevin James, Chris Rock, and Rob Schnider. Many people of this famous bunch have known Adam Sandler since the Saturday Night Live days and were cast mates alongside him! This includes David Spade, Chris Rock and Rob Schnider. Not mentioned is the late great Chris Farley, who sadly died before Sandler's friend franchise began. The question that rose for me is why would Adam Sandler cast his friends in all his films? During our conversation today, my mother speculated that it was because of Sandler's kind nature and generosity, which I agree with as well because Sandler himself seems like a genuinely good guy. If I were a famous movie star and movie creator, I would follow Sandler's footsteps and cast my friends in my productions. the reason may be, it has been proven that these characters portrayed by his friends have appeared in multiple of his films, creating a cinematic world inside of the Happy Madison films.
In the 2016 YouTube video titled "The Sandlerverse" content creator Shawn Kohne makes connections through catchphrases, words or characters that connect all of Adam Sandler's movies created before 2016. I watched this 8-minute video and was highly entertained, you could tell that Kohne knew what he was talking about. The main idea I got from the film was that many actors will play the same character in multiple films or there will be hidden "easter eggs," aka nods to the film the item or thing originally appeared in. One example of a company or global corporation that does this is Disney, with their animated characters being drawn into future films or films that were before the character even came out. Who knows, this is where the "Sand Man" got this idea from.
One character that appeared in multiple Sandler films was the townsperson whose catchphrase was "you can do it!" said in what may now be considered an offensive Hispanic accent. This character role was played by Rob Schnider with a one-time example where Adam Sandler played the role in a film that Schnider starred in; The Animal (2001). This was not the last scene where Sandler reprises one of Schnider's roles. In the Happy Madison production, The Hot Chick (2002), Sandler plays the weed seller character that Schnider portrayed on Saturday Night Live in 1993. The films that "the townsperson" appeared in are: The Waterboy (1998), Little Nicky (2000), The Animal (2001), and The Longest Yard (2005) There was an example where the infamous catchphrase was muttered by Rob Schnider as an inmate instead. There was no explanation for why the townsperson was in jail, but this instance occurred in the second to last film where the catchphrase was said: The Longest Yard (2005). The last instance where "you can do it!" was mentioned was in the Netflix special Real Rob (2015) where Rob Schnider is seen signing his autograph, saying the iconic line. I must admit- the only films that I have seen Rob Schinder in are Adam Sandler movies. Even with my filmic limitations, I believe that Schinder is very funny. But, my favorite out of Sandler's friends would have to be David Spade due to his smart-ass and dry humor, as seen in the franchise Grown Ups (2010-2013). Rob Schinder, no matter the Sandler movie will make an appearance of some sorts. Will it be good? That was a question asked by Thethings, and I would say that the answer is up to you.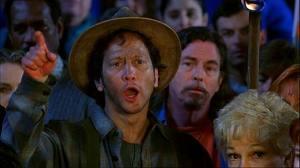 Growing up, I watched the Grown Ups (2010-2013) series. I thought it was the peak of comedy in my whole tween years of living. Although I have not watched either films in a long time, I do know that it follows the "pattern" that a lot of Sandler/Happy Madison films follow. It has the cast of characters mentioned before: David Spade, Chris Rock, Steve Buschmei, Kevin James, and the infamous Rob Schneider. Showbiz Cheatsheet explains that in an interview with Rob Lowe, David Spade one of Sandler's friends explains that the Grown Ups films were set up with actors like the "Golden State Warriors" because of the comedic chops and jokes that create competition that leads to enormous success between the group of actors. The summary of this franchise is that it is a group of childhood friends who meet again after their basketball coach dies and chaos ensues.
The Grown Ups films are the poster child of Sandler-ness. It has the cast of actors that joins him in every film, it is shot in New England (fun fact I was at the waterpark they were shooting at for the first film!) and it portrays him as a rich man. We already know a lot about Sandler casting his friends, but the reason Adam Sandler likes to shoot in New England is because he is originally from here, like I previously stated. In fact, his most recent film Hubie Halloween (2020) was entirely shot in Salem, Massachusetts. I also saw this film of his, and thought that although it was not his best, it still was a cute movie and entertaining to watch. Grown Ups shows the New England summer scene in Cape Cod, Massachusetts with the waterparks and ice cream, and Grown Ups 2 is also a return to this. In the Grown Ups films, the comedian is portrayed as a big time Hollywood man, making a hefty fortune from directing. This is not the first time we see Adam Sandler playing a rich man- Vix's article "9 Things That ALWAYS Happen In Adam Sandler Movies points out that this is a recurring theme. We first see this approach in the 1995 film Billy Madison, Sandler plays an heir to a fortune that must repeat grade school. Life imitates art because from all the films and production Adam Sandler has created, he sure is a rich man.
Wardrobe
In most Adam Sandler movies, he wears the same outfit in each one. The man is dressed in what may be considered "laid back" clothing- baggy basketball shorts, baseball hats and t-shirts. In fact, Adam himself has been pictured by the paparazzi in such clothing. In the interview with Rob Lowe as reported by Showbiz Cheatsheet, David Spade explains that on the Grown Ups 2 (2013) set, Sandler had a rack of just t-shirts and basketball shorts to choose from for wardrobe options. Another example of Sandler wearing this, it is shown in a gif from Billy Madison (1995) as shown by the Vix article "9 Things That ALWAYS Happen In Adam Sandler Movies", so we know that not much has changed. Even though he is a wealthy international movie star, the casual dress wear may be a sign of power that Adam Sandler possesses. I have seen this happen before with an example being the internet celebrity David Dobrik. David wears an outfit consisting of a black shirt, black pants, and a black hat in all his YouTube videos, which made him famous. I am a major fan of David Dobrik and his videos, along with his other ventures and have heard him say that even though he is a millionaire, he dresses this way because it is "easy" for him, since it follows a pattern. Could Adam Sandler be following the same thought? The New Hampshire comedian is very wealthy and famous, so why not just focus on things that may matter to him more like movies and premiers. In the article by leadersayswhat, David Kahn explains that since he is so famous, he really can dress whatever way he likes to, since "talk shows" and movies do not have the same dress codes that a normal office space might have. So, I guess to dress more casually, I must make over "2 billion USD" at the box office for my comedic hits.
Happy Madison is home to the "Sandler Pattern," a trio of familiar romantic counterparts in his films, a recognizable cast of friends and an unmistakable laid-back style. This is the formula that has brought the comedian fame and fortunes since the mid 1990s, with romantic comedies like 50 First Dates (2004) and comedies such as Grown Ups (2010-2013). One thing I know for sure is that I will always be a lover of his films to relax and be comforted by nostalgia of my past. Thanks, Adam Sandler. 
Works Cited
"Adam Sandler." IMDb: The Internet Movie Database, IMDb.com, 2020, www.imdb.com/name/nm0001191/bio?ref_=nm_ov_bio_sm.
"Billy Madison." Wikipedia, The Free Encyclopedia, Wikimedia Foundation, 27 Nov. 2020, en.wikipedia.org/wiki/Billy_Madison.
"Blended (Film)." Wikipedia, The Free Encyclopedia, Wikimedia Foundation, 26 Nov. 2020, en.wikipedia.org/wiki/Blended_(film).
Bleznak, Becca. "How Long Have Jennifer Aniston & Adam Sandler Been Friends And What Movies Are They In Together?" Showbiz Cheat Sheet, 2 June 2019, www.cheatsheet.com/entertainment/jennifer-aniston-adam-sandler-friends-movies.html/.
"Just Go with It." Wikipedia, The Free Encyclopedia, Wikimedia Foundation, 18 Nov. 2020, en.wikipedia.org/wiki/Just_Go_with_It.
Kahn, David. "Adam Sandler on Non-Conforming Appearance." Leadersayswhat, 23 July 2014, www.leadersayswhat.com/2014/07/adam-sandler-on-non-conforming-appearance/.
Keegan, Kayla. "Drew Barrymore and Adam Sandler Just Had the '50 First Dates' Reunion We've All Waited For." Good Housekeeping, 14 Sept. 2020, www.goodhousekeeping.com/life/entertainment/a34013850/drew-barrymore-adam-sandler-movies-relationship/.
Kohne, Shawn. "The Sandlerverse." YouTube, uploaded by Shawn Kohne, 26 Jan 2016,
McCluskey, Megan. "Every Adam Sandler Movie Is Connected: Video." Time, Time, 29 Jan. 2016, time.com/4199893/every-adam-sandler-movie-connected/.
Michaels , Wendy. "David Spade Reveals Why Adam Sandler Casts Friends in So Many of His Movies: 'It Was a Good Trick'." Showbiz Cheat Sheet, 18 Aug. 2020, www.cheatsheet.com/entertainment/david-spade-reveals-why-adam-sandler-casts-friends-in-so-many-of-his-movies-it-was-a-good-trick.html/.
"Murder Mystery (Film)." Wikipedia, The Free Encyclopedia, Wikimedia Foundation, 22 Nov. 2020, en.wikipedia.org/wiki/Murder_Mystery_(film).
Penn, Marianne. "7 Celebs Adam Sandler Never Works With (And 8 He Always Does)." Teething's, 29 Mar. 2020, www.thethings.com/7-celebs-adam-sandler-never-works-with-and-8-he-always-does/.
"The Wedding Singer." Wikipedia, The Free Encyclopedia, Wikimedia Foundation, 17 Nov. 2020, en.wikipedia.org/wiki/The_Wedding_Singer.
"50 First Dates." Wikipedia, The Free Encyclopedia, Wikimedia Foundation, 27 Nov. 2020, en.wikipedia.org/wiki/50_First_Dates.