Saturday night, Nov. 17 in the Dower Center, Westfield State's Musical Theater Guild and SAIL put on a special midnight showing of the classic movie The Rocky Horror Picture Show with a shadow cast.
A shadow cast is a cast who performs musical numbers and/or scenes from a film that plays behind the performers. The great turnout for the event made for an even more satisfying performance for the cast.
"It was amazing," Evan Bylund, who played Frank N. Furter, explained, "I always enjoyed Rocky Horror, so being in this is kind of a dream come true and it was a real fun experience."
Reilly Eddy, who played Magenta added, "I grew up watching Rocky Horror ever since I was a little kid so I always wanted to be in one of the live shows." She went on to explain, "I've only been to one of them and after that I was kind of determined that I wanted to play Magenta in one of them."
The preparation that went into this production fascinated most of the cast. A shadow cast is very different from all other theater productions allowing the cast to let loose and enjoy themselves more freely.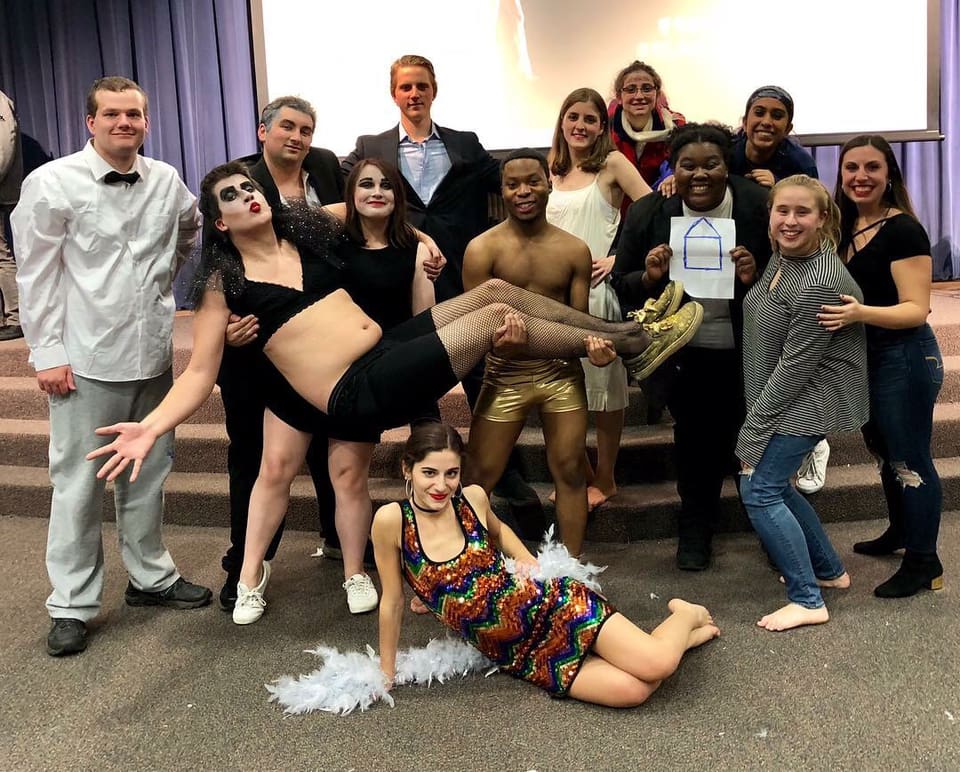 "It was kind of fun to do because we were winging it," Colleen Looby, who acted as Janet Weiss, says, "It was just something to have fun with so it wasn't a super big production."
"This experience was definitely something new," Glenna Forgue, who was cast as Columbia, explains, "I've never done something like this and it was cool to be open to this new world of people being expressive about themselves."
The cast admits that a lot of their scenes were not prepared strongly as others. However, this didn't seem to matter to them or the audience.
"The moment where we stopped trying so hard and we just kind of had fun stood out for me," director Sarah Rosenthal stated.
Reflecting on the show, Bylund details, "It's a lot more silly than you would expect." Adding, "A lot of 'off the wall' stuff, but we're all doing things that we enjoy."
Even though the show was lighthearted, there was still a serious message to be taken away from this performance. It is especially important this day in age with the constant challenging of gender identities.
"Just being so in touch with sexuality in general," Forgue describes, "It's just really fascinating how this show is so awesome and able to encapsulate the fluidity of sexuality and gender."
"[The message] is kind of like 'accept yourself' and as Evan [Bylund] puts it 'we are all a little gay' so there's nothing wrong with that," Eddy stated.
"Be yourself because that's the most important thing," Rosenthal added.
Despite being almost a month after Halloween, the audience enjoyed the tribute to one of the most recognizable Halloween movies of all-time.