Agawam Paranormal returned to Westfield State University with a new presentation on ghost hunting last Thursday, 4/4 in University Hall. Lead by their founder Rob Goff Sr. alongside several members of his team, the presentation consisted of a recap of their first visit, and an opportunity to use some of their ghost hunting equipment. 
Before opening the floor up for questions and participation, Goff revisited a brief version of his first presentation Ghostology 101 for those who hadn't attended the first visit last October. "I never assume one-hundred percent of my audience has seen the first one," Goff said before diving into the presentation. 
Ghostology 201 contained many elements of its predecessor, with examples and definitions to both refresh returning students, and inform new faces. However, the similarities end after the recap. 
This time, Goff included some of the darker theories surrounding spirits and ghosts, including the religious history of demons. Here, he cited the fallen angels from Heaven, and their possible role in demonic possessions. 
However, Agawam Paranormal's presentation wasn't all doom and gloom. After finishing the presentation, Goff opened the floor up for students to try their hand at using some of the professional equipment, as well as talk to Goff's team about paranormal experiences. 
Team members were open to hearing the experiences of students and validating them, while also contributing their own personal encounters to the conversation. One such conversation involved a psychic member of the team, who discussed an encounter with the spirit of her grandmother. 
The team brought numerous pieces of equipment with them, from cameras worn on their chests, to EVP recorders, and devices that light up when touched. One such item, a R.E.M. Pod would loudly sound off when touched, a feature Goff cites as one of the most important tools used during a session.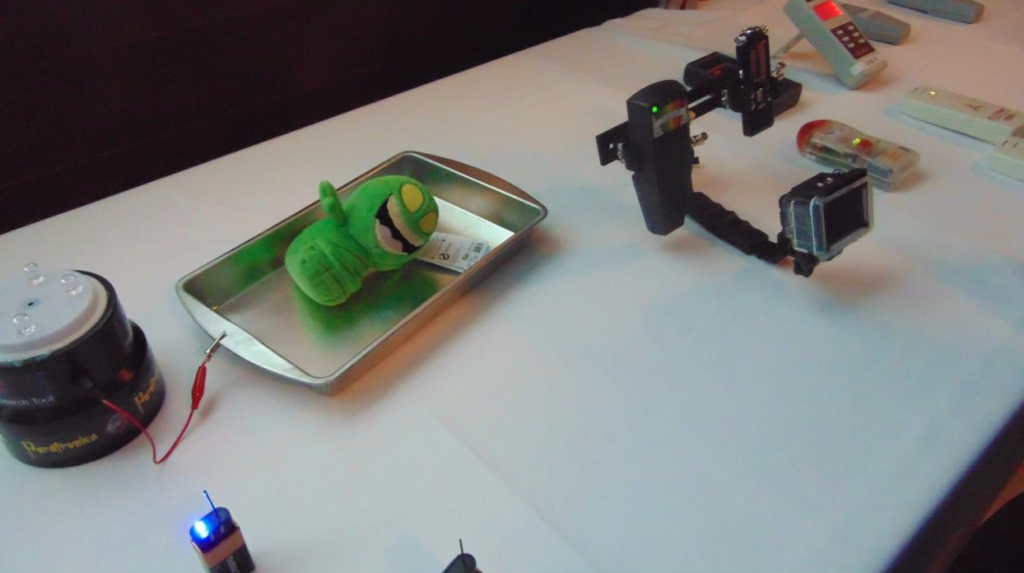 Having been Agawam Paranormal's second presentation of the school year, Goff shared an enthusiasm for returning. "I hope students can be entertained and educated by this presentation, and hopefully leave here more open-minded," he said when asked what he hopes students get out of the presentations. 
All of the equipment and services Agawam Paranormal provided for the presentation were completely volunteer, as the team does not receive pay for their discussions or sessions. For more information about Agawam Paranormal, you can visit their website at agawamparanormal.com.