(Cover Photo Via slamonline.com)
On Sunday morning, a tragic helicopter accident in California took the lives of nine people, including NBA legend Kobe Bryant and his daughter Gianna. Touching tributes have continued to be made in respects to the passing of Bryant and his young daughter Gianna.
Big and small acts have been made in tribute, including the Empire State Building lighting up purple for Kobe's ties to the Los Angeles Lakers. Many other places took a similar path with yellow and/or purple lights.
For a generation of college age students, we all grew up throwing pieces of paper into the trash can and yelling 'Kobe!' Outside of the Staples Center in Los Angeles there was a small trash can that had a piece of paper saying 'you know what to do' with many crumpled up paper balls surrounding it. People circled around and shot the paper into the can saying 'Kobe'. A small sign of the major impact Kobe had on the entire basketball community.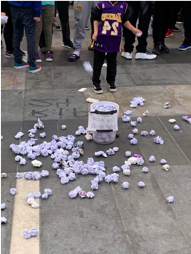 Multiple murals have been painted and put up in cities, especially in Los Angeles. In LA, a mural of Kobe was put up next to one of LA rapper Nipsey Hussle, who passed away in 2019. Some of the murals include Kobe with his daughter included, such as one in Cambridge MA.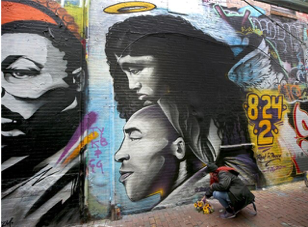 A basketball court in Puerto Rico painted a picture of Kobe and Gianna on the court. This shows the impact he had on the world, and how tragic the incident was with his daughter there.
Many NBA players, past and present have shared touching stories and memories involving Kobe, even his rivals and so called 'enemies' only showed him respect. His impact is evident on young players in the league who modeled their game after him and who looked up to him.
The UConn women's basketball team left out a jersey in support of Gianna, who was just 13, but had plans of playing at UConn and then eventually in the WNBA. Her and Kobe had just begun to build a strong bond around basketball. They sat court side at NBA games and you could see him teaching her the game of basketball.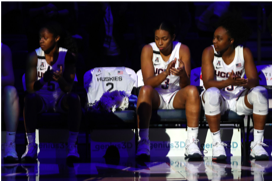 Kobe left us with countless moments on the basketball court, as well as off the court. He had most recently taken his talents more into the business world.
My heart goes out to Kobe's wife Vanessa as well as his other three daughters. I cannot imagine what they are going through right now and I wish them nothing but the best. The basketball community as well as the entire world mourns the loss of not only the Bryants, but the seven other people involved.