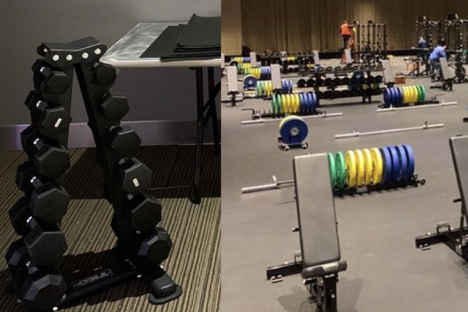 Here we are in the Elite 8th stage of March Madness. But, just a few weeks ago there was more madness outside the basketball court than on it. After multiple members of various teams became popular on social media, images and videos flooded sports fan's feeds with the distinct inconsistencies between the men's and women's tournament accommodations. 
Here we have the gyms. Women's on the left and men's to the right. The NCAA came out with a statement that it was due to a "lack of space" that the women only received a single rack of free weights and yoga mats.
Thankfully, due to the uproar made on social media by fans, activists, and even professional athletes, an upgrade was given to the women's gym. Many former NCAA athletes like Sue Bird, Sabrina Ionescu, A'ja Wilson, Kyrie Irving and C.J. McCollum called out the inadequate facilities on Twitter and Instagram. Muffet McGraw the former head coach of Notre Dame posted her frustrations about the Women's Tournament having always been treated as a JV event. She closed her statement with by stating "This generation of women expects more and we won't stop until we get it."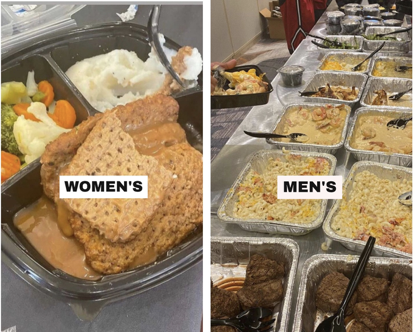 Beyond the weight room there were even inconsistencies with their food. FOOD. Who decided that men get better food services than women? It is a basic human need to have adequate food, especially when it comes to elite athletes.
The following images are the "swag bags" given to every player in the tournament. The Women's tournament is being held in San Antonio, TX and the Men's tournament is being held in Indiana. The NCAA's claims the disparity in quality and quantity of the contents of the bags were based to the "difference in weather and temperature."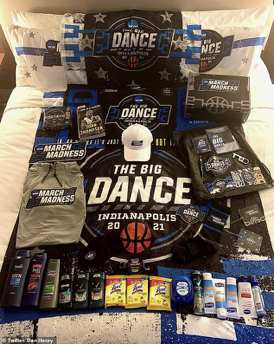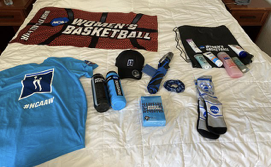 However, due to influential voices on the internet, many issues are continuing to be addressed as the tournament goes on. That being said, shouldn't the voices of the players be powerful enough? This controversy should not have needed a social media upheaval to get the NCAA's attention, nor for them to take the appropriate actions to fix their mistakes.
Unfortunately, this is not the first time that women in the NCAA have been treated as less than their counter part and will probably not be the last. Women athletes and coaches alike must continue to actively fight for their rights to stand at the same level as men. 
Tune into the Women's Basketball Tournament to show your support and show the NCAA that women have fans too!