Do you like the Muppets? Do you like Disneyland? Do you at least like Halloween? Then Muppets Haunted Mansion is sure to be the special that will get you streaming-and screaming!
The Muppets' artiste-in-residence, The Great Gonzo (Dave Goelz) has done everything from hypnotizing himself into lifting a heavy weight to defusing a bomb while reciting the works of Percy Shelley. But for his latest feat, he will be spending one full night in one of the spookiest places in the world: the Haunted Mansion!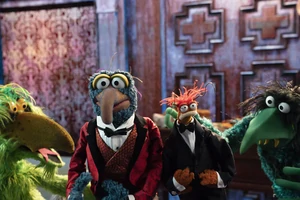 Along with his colleague, Pepe the King Prawn (Bill Barretta), Gonzo encounters a cornucopia of ghoulies, ghosties, long-legged beasties, and things that go bump in the night, many of whom bare striking resemblances to his fellow Muppets: Miss Piggy (Eric Jacobson) takes on the role of "Madame Pigota," Fozzie Bear (Jacobson) appears as the Hatbox Ghost, Kermit the Frog (Matt Vogel) is the emcee for "The Mansion Show," an annual variety show held in the mansion's ballroom, and everybody's favorite Muppet, Chip the IT Guy (Goelz), is featured as Pickwick.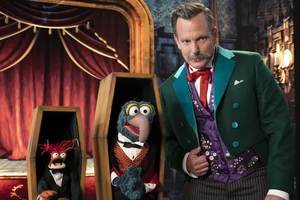 The special co-stars Will Arnett (Arrested Development) as the Ghost Host, and Taraji P. Henson (Empire) as ghost bride Constance Hatchaway, along with cameo appearances including Darren Criss (Glee), Yvette Nicole Brown (Community), and John Stamos (Full House), and features three original songs written by Kelly Younger, Bill Barretta, and director Kirk Thatcher.
Will Gonzo and Pepe pass their challenge and make it through the night in the Haunted Mansion, or will the 999 ghosts residing there welcome two more? You'll just have to watch Muppets Haunted Mansion to find out, now streaming on Disney+!