Where Can I Have A Rom-Com Meet-Cute? Cute Coffee Shops in MA
*originally posted on my personal blog *
"C-O-F-F-E-E is not for me", a line from an old folk song, is actually incorrect. Ever since I was around 17, I have not gone more than a few days without a "cup of joe", "java", or "jitter juice". Coffee can be made in different variations: iced, hot, macchiato, Frappuccino- the list goes on. Some people are quite particular about their coffee, having to make a fresh roast every morning, while others pick up an iced regular from their local Dunkin'. (I'm sorry- as someone from New England who's talking about coffee, I am legally required to mention the "D" word.)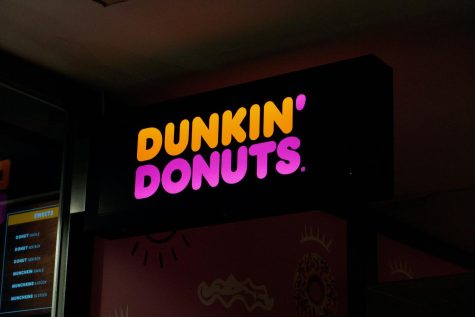 For me, I enjoy treating myself to coffee almost everyday. When you're a college student who has long days that turn into even longer nights, Dunkin' everyday is usually required. But, if I am feeling fancy, I sometimes splurge and go to a local place. I think you might get where I'm heading. So, without further ado, here's some of my favorite coffee spots in Massachusetts! *Dunkin will not be on the list- sorry Ben Affleck*  
Circuit Coffee
Westfield, MA
Circuit Coffee is a local coffee shop in Westfield, MA just a few miles from Westfield State University. Known as " A place for connection", the atmosphere truly fits its title. Warm lights & their plentiful seating are just two things that makes Circuit Coffee great.
Founded by Ted Dobek, a graduate of Westfield State University, Circuit Coffee was created in response for local coffee in the greater Westfield area. Quality & simplistic ingredients are a key focus of Dobek's & the shop, as stated on their website.
The shop is known for their specialty drinks, espresso bar & diverse selection of teas. If you are also looking for something to eat alongside your beverage- have no fear. Circuit Coffee makes fantastic pastries, that are baked fresh each morning.
If you're ever in the Westfield area, I highly recommend checking Circuit Coffee out. Make sure to grab a pastry!
Follow Circuit Coffee on Instagram  
Tasty's Bagels
Plainville & Norton, MA
Tasty's Bagels is a fairly new spot for coffee & bagels for southeastern MA. Known for both their bagels & coffee, there truly is something for everyone.
Tasty's specializes in "NY Bagels, Boiled in MA". But, their quality is fresh no matter the order. For their bagels, you can choose from the many different options & sandwiches. Their coffee is no different, which is shown in their wide range of drinks, from nitros to frozen lattes. If coffee isn't your "cup of tea", Tasty's also has a great selection of smoothies, teas, and even kombucha.
Bagels isn't the only option for food at Tasty's. You can choose from the make-your-own salad bar, sandwiches & wraps, or pick out meats & pies from their local retailers. I personally really like their sandwiches, and am partial to their BEC.
Tasty's is great for on the go as well, with their drive-thru. The only downside is that during their peak hours, it can get quite busy.
Follow Tasty's on Instagram
SPoT!
Norwood, MA
SPoT! is more than just their coffee. I know, I know- I'm talking too much about bagels for a coffee store listicle. Well, I thought I'd use the term "Coffee" as a Catch 22, for this example. SPoT! is located in downtown Norwood, a suburb of Greater Boston.
Once inside the store, you will be met with the smell of fresh bagels & your eyes will be bestowed upon old-fashioned candy & soda, available for sale. Their bagel & retro food selection is huge, and their prices cannot be beat, between their breakfast sandwiches & dozens of bagels.
The people that run the shop are some of the friendliest folks you meet. Every time I've gone to SPoT!, I have seen the customers chatting alongside the cashiers & bakers.
The only thing I'm not a huge fan of is the wait line. It's not uncommon for the line to wrap around the store, and it can take longer than the time you actually consume your purchases. But, in my opinion I say it's worth it!
Friend SPoT! on Facebook  
Shelburne Falls Coffee Roasters
Berkshires & Western MA
Shelburne Falls Coffee Roasters is probably the closest things to Stars Hollow, Connecticut (a la Gilmore Girls) in terms of its "vibes". This coffee shop is a local chain for the Berkshires & Western MA, and there's a reason why.
Shelburne Falls makes their own coffee roasts, fresh pastries & sandwiches. Their menu is nothing like what you'd think a chain would be. A big reason why is their seasonal drinks, like maple & pumpkin that are also locally sourced.
Inside a typical Shelburne Falls will only further their Gilmore Girls reputation. Flyers for local events such as Battle of the Bands & art shows can be found on their walls, alongside the rustic wooden tables they have for seating.
I went to the Easthampton location, and besides the picturesque location, the employees were so kind & generous, leaving out extra milk for my coffee.
Follow Shelburne Falls on Instagram  
A big thank you to coffee for getting me through my undergraduate studies! This listicle was so fun to write.