From Software has taken us through plenty of Medieval European castles and a memorable Victorian era landscape. But Sengoku era Japan is where their latest game takes place, and with a new region comes plenty of new game elements as well.
Sekiro: Shadows Die Twice follows a Shinobi during the Sengoku era named called Wolf. His Shinobi master, Owl, raised as a son to follow the iron code of the Shinobi. Essentially, Wolf must follow his command at all costs in order to stay true to the code. His task as the game begins is to protect Lord Kuro from whatever dangers they may stumble upon.
If you're a fan of the Soulsborne series, then you might be thinking that the short summary I just gave is rather extensive for a From Software game. Most of the time, we are thrown into a broken world full of danger, with almost no knowledge of the plot. That is one of the first major differences between Sekiro and Soulsborne.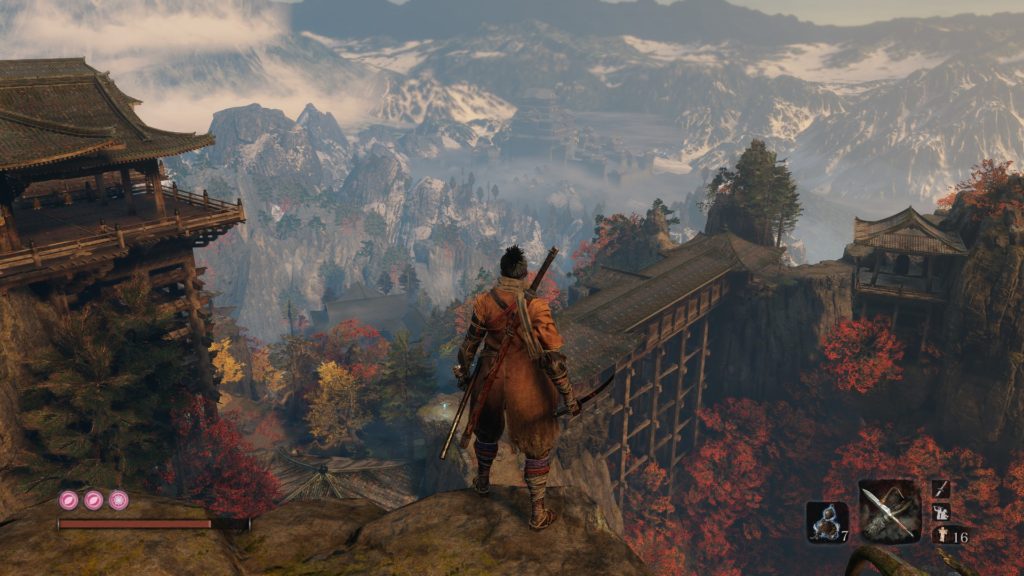 There is no character creation or alternate builds to experiment with. Instead, everyone plays as Wolf, and everyone utilizes his katana and prosthetic tools. This change does make a noticeable difference in the way the game plays and progresses. For one, I didn't have to scour for outside sources to understand an eternally convoluted set of lore. Sekiro is a self-contained story that takes place in a historical period. I was able to follow exactly what was going on, and I knew what to question as I moved forward. The lore may not have been as exciting as in previous games, but it was refreshing to see a more linear narrative with a protagonist that develops.
A fixed protagonist and weapon set also means balancing can be tuned far better. Sure, any player can figure out which consumables work best against an enemy, or what tools offer the best assistance, but those tools are always available. A fight always comes down to the mastery of the combat system with Wolf, instead of experimenting with vastly different weapon builds.
Like other From Software games, combat and boss fights are generally the main attractions. Sekiro's combat system feels fantastic mechanically, and it is far different from previous titles. Along with health bars, there are posture bars for every enemy. The goal isn't to focus the health bar every time like a player may be used to. The goal is to break an enemy's posture, using tools, deflects, or a barrage of attacks, to bypass defense and connect a Shinobi deathblow. Most of the time, going for the health bar simply doesn't work. Enemies will block your every swing, as well as throw constant strikes of their own, so well-timed strikes and deflects of your own are entirely important. When done right, the display and sound of a hectic duel with clashing swords is addicting to say the least.
Stealth is also a viable tactic, which is more than fitting for the Shinobi protagonist. Levels are designed with stealth routes in mind, like hidden ledges or tall bushes to remain unseen. I personally didn't focus much of my time on stealth, and I often found that it wasn't exactly worthwhile. But there were certainly fights where utilizing stealth, just like any other tool, could change an impossible fight into something manageable.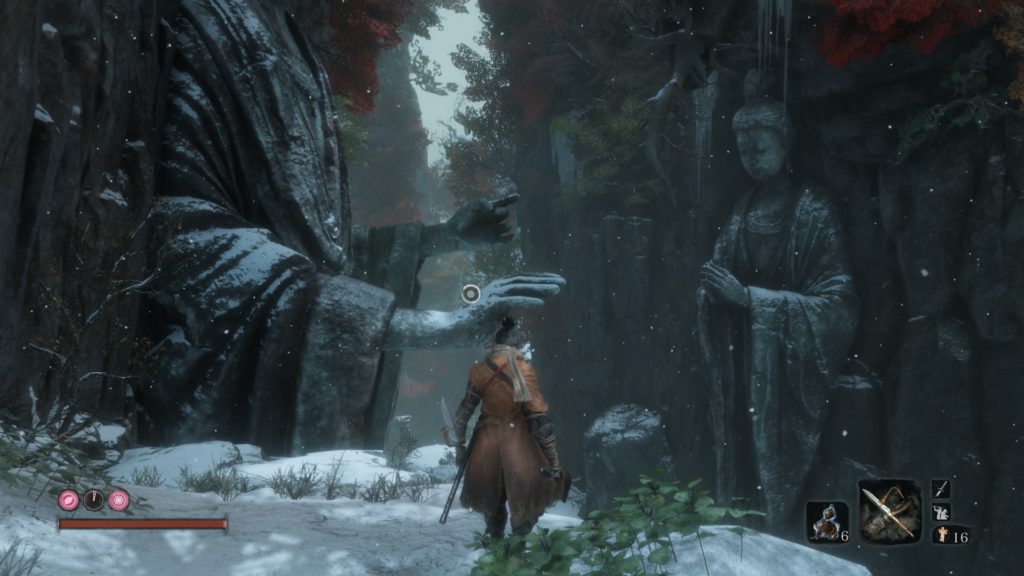 Another one of the attractions of a From Software game is the world itself. The Soulsborne series always housed strange side characters, mesmerizing levels, and some of the most memorable boss fights that gaming has to offer. For the most part, Sekiro holds on to these values. The beautiful graphical display of Japanese landscapes and various art only support that. Many of the bosses also rival previous fights from Soulsborne in their design and intensity. However, there is a sense of variety and discovery missing from the game. Mini-bosses are in abundance within Sekiro, but when I'm fighting duplicates of almost all of them, those fights become stale and less memorable. Like the mini-bosses, the smaller enemies and some levels also suffered for the same reason. I always expected the next main boss fight to be epic and surprising, but I lost that same sense of mystery for subsequent enemies and levels.
There are a lot of new aspects to Sekiro that weren't present in Soulsborne titles. There are more than a few similarities though, and that is most apparent in the foundation of the game. Bonfires come in the form of shrines, souls become experience points or sen, and estus flasks are healing gourds. The main goal at a base level, disregarding the narrative that drives the player, is to reach new shrines, strengthen your character, and progress by killing incredible bosses. And of course, the game is still brutally difficult, especially if you can't shake that side step habit at the start.
As much as I would have enjoyed seeing more variety, Sekiro: Shadows Die Twice proves that From Software will continue to make fantastic new IPs. The game can easily hold its own when compared to the Soulsborne series, and yet it brings entirely new aspects to the From Software formula. Sekiro will certainly crush you, but every death to the end was certainly worth it.