After a seven-year hiatus following its predecessor, Borderlands 3 was released to the public on September 13. The critically acclaimed Borderlands 2, which released September of 2012, accrued plenty of accolades and took the shooter-looter gaming franchise to new heights. It seemed as if a new Borderlands title were to ever be made, it was going to be difficult to top the second. With the new installment, Gearbox Software planned to do exactly that.
The long layoff since Borderlands 2 seems to have been used as a time of reflection and meticulous attention to detail. Borderlands 3 does an excellent job of building on the best components of past Borderlands titles, but it also incorporates an abundance of new features while simultaneously eradicating the worst ones. It's clear that Gearbox set out with a specific goal in mind: deliver the most action packed and diverse edition of the franchise yet.
Story Line and Plot Delivery
Borderlands 3 is set several years after the events of Borderlands 2 and the fall of the Hyperion Corporation. As a new vault hunter, players arrive on Pandora and meet the remaining faction of the Crimson Raiders and their leader, Lilith the Siren. When introduced, players find that the Crimson Raiders are beginning their search for vaults filled with treasures and located around the galaxy. The story begins on the familiar, war torn planet of Pandora. But unlike past editions of Borderlands, the plot takes gamers way beyond just Pandora.
A massive new feature for the Borderlands 3 story is the ability to explore all new planets and biomes, and experience what they have to offer. Each new planet comes with a unique landscape, set of missions, and a wide range of enemies to take down. Considering this has never been done before in past Borderlands titles, it is a huge improvement that gives the game more depth and complexity for players to enjoy. As players navigate through new environments, there are interactions between old fan favorite characters as well as unfamiliar ones. This balance makes the game open to a wider audience and truly have something for all players, old and new.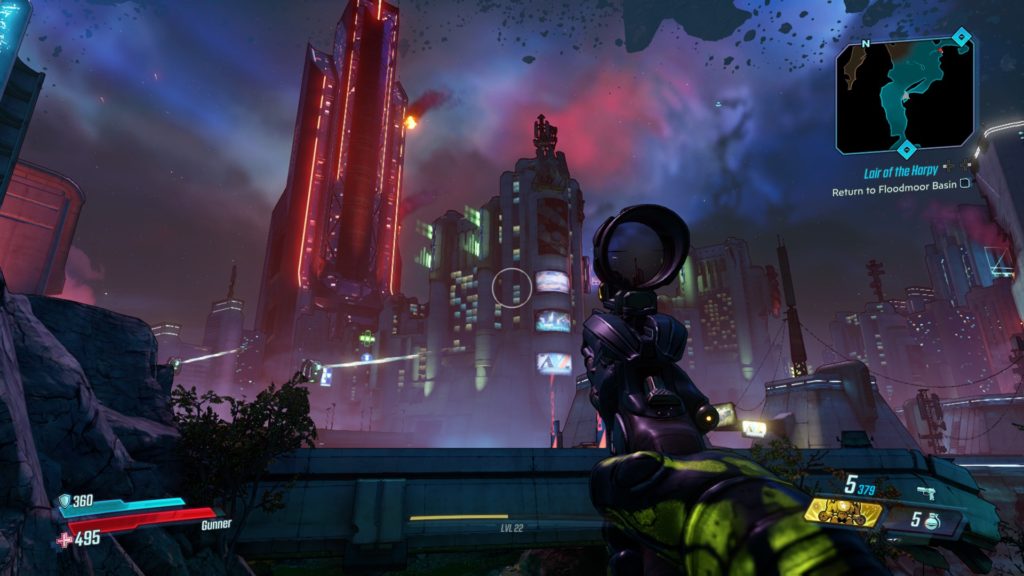 The actual delivery of the plot is well executed and builds off of what made past Borderlands stories so captivating. Borderlands 3 prides itself on character depth, making any character one might come across on their adventure feel real. This closeness with characters creates a convincing story line and establishes an emotional connection that keeps players coming back for more. The game also utilizes humor for a large portion of the narrative, a fan favorite feature of the franchise. The laugh-out-loud dialogue is enough to keep a player enticed, but fortunately for the franchise, it is just one aspect of the brilliant writing that occurs throughout Borderlands 3.
Like its previous editions, Borderlands 3 uses a combination of story and side missions for players to progress through, earning experience points along the way and collecting an insane amount of loot. One gripe that I had about Borderlands 2 was the sheer volume of side missions required to level up as well as how little reward I felt I was given. After playing the newest installment, it seems as though Gearbox did away with this problem. As I leveled up, the experience and rewards allotted seemed more balanced and I didn't feel as though I was being robbed of my time. There are fewer side missions and the plot is much more story driven. With more story missions and a longer play time, this Borderlands plot may be the best that Gearbox has done to date.
As expected, this installment sports a convincing antagonist(s), one perhaps even more menacing than Handsome Jack of Borderlands 2. The main antagonists of Borderlands 3 are Tyreen and Troy Calypso, a.k.a. The Calypso Twins, two siblings who have created a massive cult following in order to help them take the power of the vaults and control the galaxy. Their following, The Children of the Vault, is mostly comprised of bandits (including a new female version) but also includes a variety of other enemies from the company that supports them; Maliwan. The Calypso Twins and their cult are a fascinating enemy who are relevant to the fan base and powerful enough to draw real emotion out of gamers.
Weaponry
Weapon choice and variety has always been one of the driving points of the Borderlands franchise. Its slogan "bazillions of guns" holds true in spades. To build on Borderlands 2, developers decided to include even more weapons, adding to the fact that there really is a gun any person would enjoy. Unless you are farming a specific legendary or epic weapon, there is a slim chance you will see the same gun drop twice during gameplay. The gun diversity makes gameplay insanely fun and you never know which gun is going to drop in front of you. This adds to the game's longevity as well as its unique status compared to other gaming franchises.
Included in weaponry are the game's vehicles since they can all be used as a weapon. Borderlands 3 adds a new collection of vehicles for players. The most exciting of these is the Cyclone, a single wheeled lightweight vehicle with a turret attached that can navigate through tight spaces and race away from enemy vehicles. Overall, the vehicles feel smoother and the driving mechanics are more manageable than in past games.
In Borderlands 2, the elements included for weapons were corrosive, incendiary, shock, explosive, and slag. In Borderlands 3, they have removed explosive and slag, and replaced them with cryo (from Borderlands: The Pre-Sequel) and a brand-new element, radiation. This is a welcome change to the franchise due to the insignificance of the explosive element in the past as well as the imbalance of the slag element. Cryo was a popular addition when it was introduced in Borderlands: The Pre-Sequel, so it is exciting to see it make the cut for Borderlands 3. Radiation, however, is a brand-new element to the Borderlands world. Upon use, it seems as though it's a powerful element that is good on almost any enemy. This is the perfect replacement for slag and brings a balance to the gameplay that Borderlands 2 lacked.
Character Classes
As has been the case in each Borderlands game, there are four new vault hunters that players can choose from at the starting point. There is Moze the Gunner, FL4K the Beast Master, Amara the Siren, and Zane the Operative. Each character brings its own unique action skill to the table, and there is more variety than ever. Players can choose from multiple options to activate for an action skill for each character class. In addition, each skill tree comes with extra abilities that can be unlocked after a certain amount of time.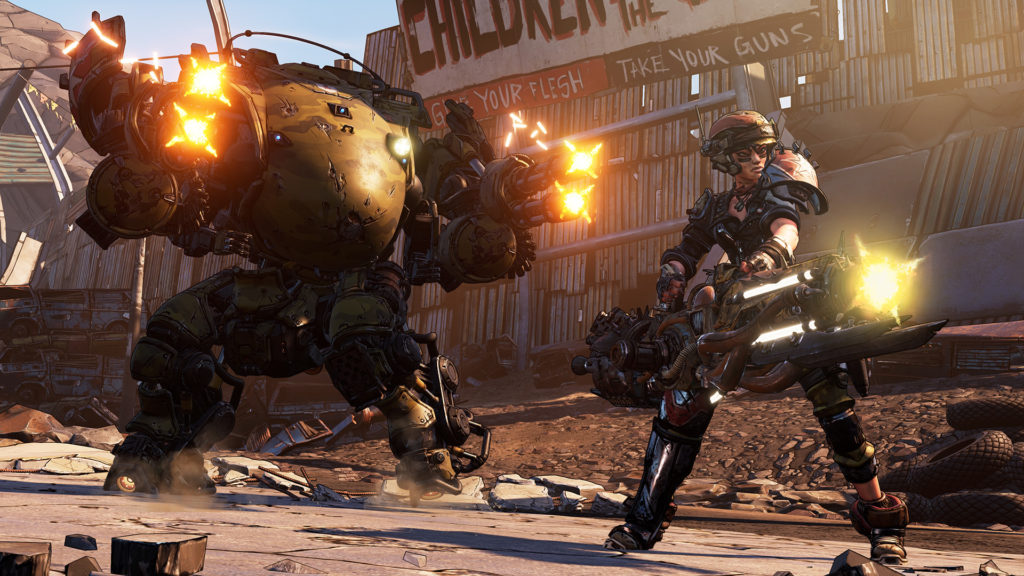 On my first playthrough, I chose to use Moze. Her action skill activates her Mech: Iron Bear. The Mech holds two weapon slots and players have the choice between a grenade launcher, a railgun, and a minigun. I chose to use the minigun in both slots for the entirety of the playthrough. I felt this was a good choice. Using Moze as my first character was a ton of fun. The beauty of the amount of choice for each character class makes the game that much more fun to play. It also makes it so that even if two people are using the same class, they can experience the game entirely different.
Graphics
The Borderlands franchise has always utilized a unique art style to stand out from its competitors. It combines a comic book feel with a certain touch of realism in its characters. In the beginning, this art style wasn't as crisp and makes the first Borderlands game look cheap compared to the newest edition. As time has passed, advancements have been made and the graphics for Borderlands have gradually increased in quality.
In Borderlands 3, the graphics are taken to new heights. The unique art style looks as crisp as ever and the world is more immersive than ever. The seven-year layoff since the release of Borderlands 2 has been worth the wait in many ways, especially when it comes to the graphics. The time has allowed us to get the best possible graphics out of the game and it's exciting to see the upgrade.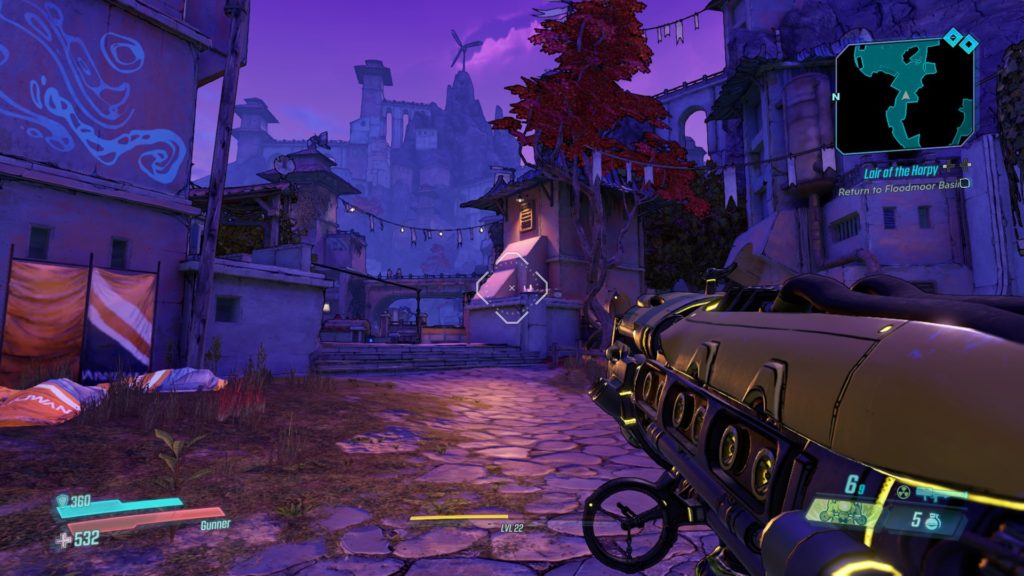 Replay Value
One of the cornerstones of the Borderlands franchise has always been how much replay value the game has. Borderlands 3 proves to be no different. The game practically begs to be played again and again and feels as though it's never really done feeding you content.
There are four-character classes to select from, and with each comes several unique ways to play. In the future, they may add DLC characters like they did in Borderlands 2, which would be an exciting addition to the game. This alone gives the game so much replayability because players can have a vastly different experience on each playthrough.
Level capacity creates another huge opportunity for replaying the game. At the conclusion of the story mode to Borderlands 3, players don't hit the maximum level capacity and there is an extra play mode to progress through. Achieving the highest level possible and maxing out your character class is always one of the end goals of the game, and considering Borderlands is known for raising the level capacity with DLC, fans will be playing Borderlands 3 for years to come.
DLC, or the addition of new and themed mini campaigns in the Borderlands world, will be a huge factor in the game's replay value in the future. Gearbox has been highly successful with their DLC campaigns in the past, and I can only assume that Borderlands 3 will be no different. As new campaign stories are released, players like myself will want to play again and again. If the pattern of old continues, there will be four DLC campaigns released, and if this is the case, Borderlands 3 is going to see massive success.
Final Thoughts
Overall, Borderlands 3 is a positive and welcoming addition to the shooter-looter franchise, but there are a few things that I will warn potential players about.
It will take some time to figure out. In the beginning, returning players will notice a difference in mechanics. The changes to mechanics come to feel smooth and improved from Borderlands 2, but it just takes some getting used to. Added to the gameplay is a new sliding move as well as the ability to scale up to raised surfaces. These are a refreshing change, but at times, the scaling brings difficulties to completing missions. There are missions where you must scale debris and buildings to make it to a specific waypoint, but the locations where you can scale are sometimes hard to locate and can cause frustration for players, myself included.
I must also acknowledge the connectivity issues the game has had from launch. Multiplayer has been suspect for a large portion of gamers with reports of lagging. This has also been noted as a problem that occurs during split screen play. Until Gearbox and 2K manage to fix the connectivity issues, I would recommend avoiding split screen, and wish you the best of luck in online play.
Despite these issues, I would not let that deter any potential player from purchasing this game. I highly recommend this game and believe it is going to go down as one of the best first-person shooters of the decade. It does just about everything right and brings a unique personality to the gaming world. Whether you are brand new to the Borderlands franchise or you are a returning fan, Borderlands 3 has something for everybody.