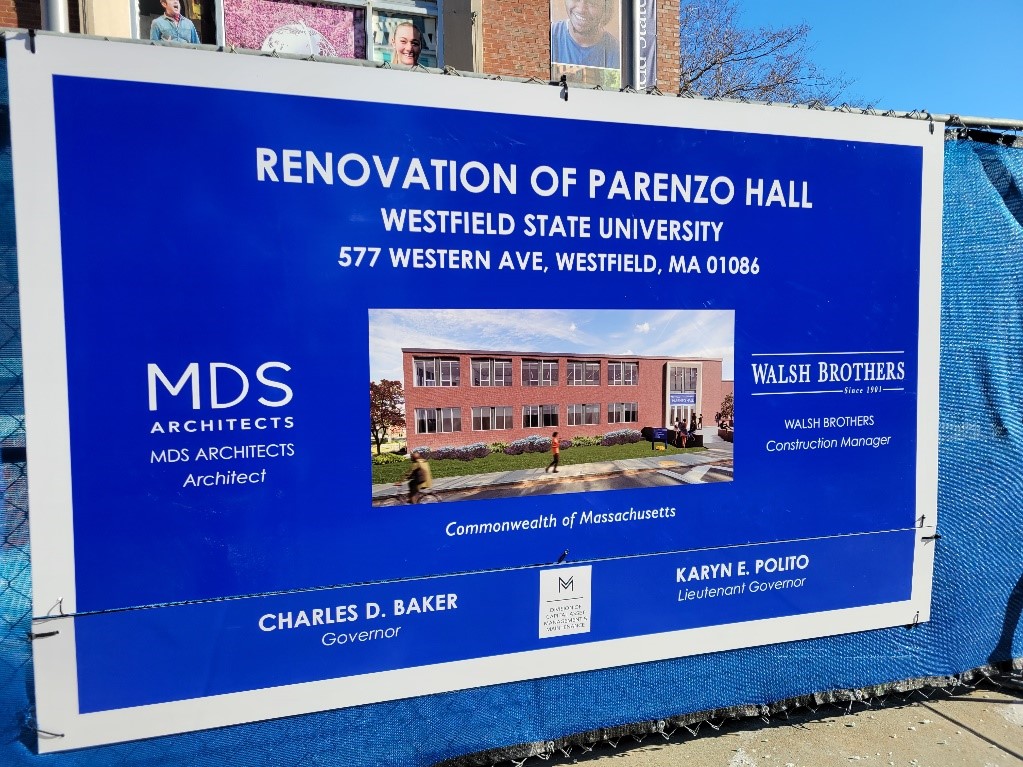 After years of discussion over the design and multiple delays brought on by the COVID-19 pandemic, construction has begun on a nearly $43,500,000 renovation project to one of the oldest academic buildings on campus – Parenzo Hall, which was constructed back in 1956, with no major renovations completed over its 66-year existence. As a hub for our long-standing education program and prominent political science department, alongside offices for important student and academic services, the renovation of Parenzo Hall is essential for the continuation of the University's mission of "developing the knowledge, skills, and character essential for students to become responsible leaders and engaged citizens."
After years of overlooking the decaying structure before them, Westfield State University's administration under the leadership of then-President Ramon Torrecilha took action, urging Governor Baker and legislative leaders on Beacon Hill to assist in financing the restoration of Parenzo Hall through the Division of Capital Asset Management and Maintenance (DCAMM) to ensure that the next generation of students could attend class in an environment that meets the needs of the 21st century. The Republican Governor and Democratic lawmakers in the House and Senate successfully passed and signed into law H. 4549 An Act providing for capital repairs and improvements for the Commonwealth, which included funding for the renovation of Parenzo Hall at Westfield State University and several other renovation projects across the public higher education system in the Commonwealth. The Commonwealth will pay for approximately 53% of the total costs of the project, according to Vice President for Administration and Finance Steve Taksar during a Board of Trustees meeting on Thursday, February 17, 2022, with the University financing the remaining 47% along with any additional expenditures. Costs have changed as a result of skyrocketing inflation, but this has thankfully not put a damper on the project, according to Taksar and architect Kelly Holmes. 
To celebrate this monumental step in transforming the higher education landscape in Hampden Country, Governor Baker signed H. 4549 into law in a ceremony held at Westfield State University, stating that Parenzo Hall "is a great statement about why this legislation was so important," ensuring that the Commonwealth could continue to be a pioneer in the realm of higher education.
But what makes the renovation of Parenzo Hall such a significant step in Westfield State University's march toward enhanced student success? Cutting-edge academic technology and adaptive classroom space complemented by close proximity to the most important student services.
According to documents publicly posted by MDS Architects and Westfield State University, the renovation will see a complete transformation of the dilapidated structure and appear like an entirely new structure on the inside. To meet the Commonwealth's goal of being sustainable in construction practices and being fiscally prudent with state expenditures, the decision was made to renovate rather than merely construct a new academic building, according to the Parenzo Hall Working Team. Parenzo Hall will be composed of the following by floor upon completion of the project in 2023: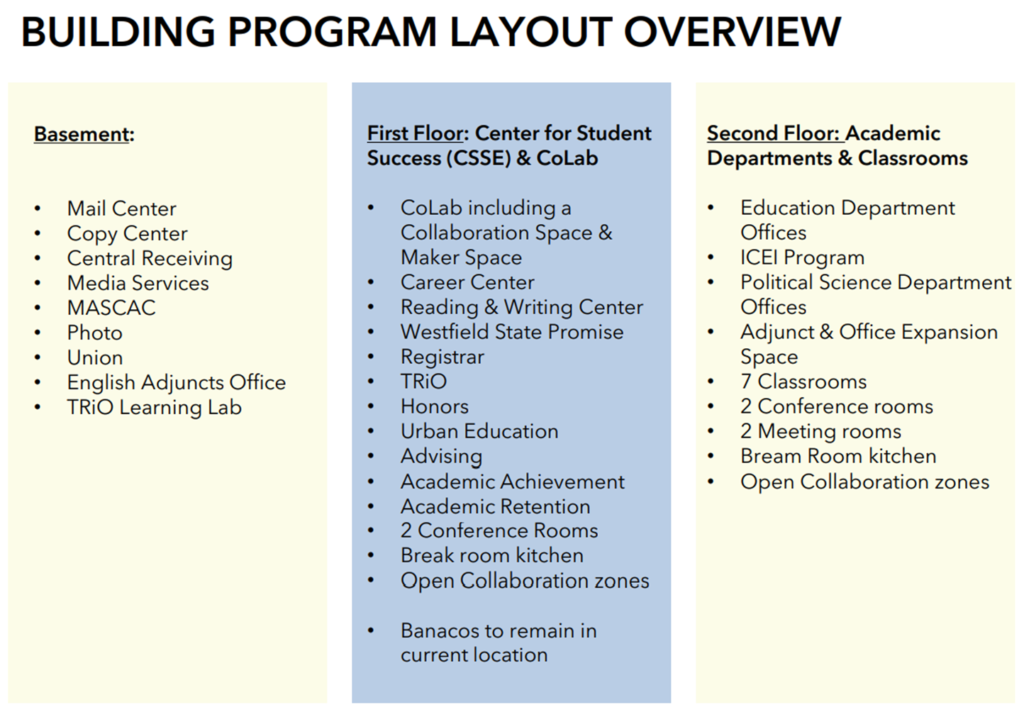 Most of the services currently housed in Scanlon Hall to facilitate the renovation of Parenzo Hall will return back to Parenzo Hall during the summer of 2023, but some services may remain on the first floor of Scanlon Hall, according to Kelsey Holmes, Project Architect. The image above shows what the campus community may expect on each floor, subject to design modifications, with the Center for Student Success and Engagement's various subareas now able to be housed in a central location with ease of access to classroom spaces. Instead of travelling to Lammers Hall for a Career Center appointment before travelling to Mod Hall for Honors and Scanlon Hall for Urban Education, the renovation project will seek to reduce the amount of travel time between these services from several minutes to only a few short seconds.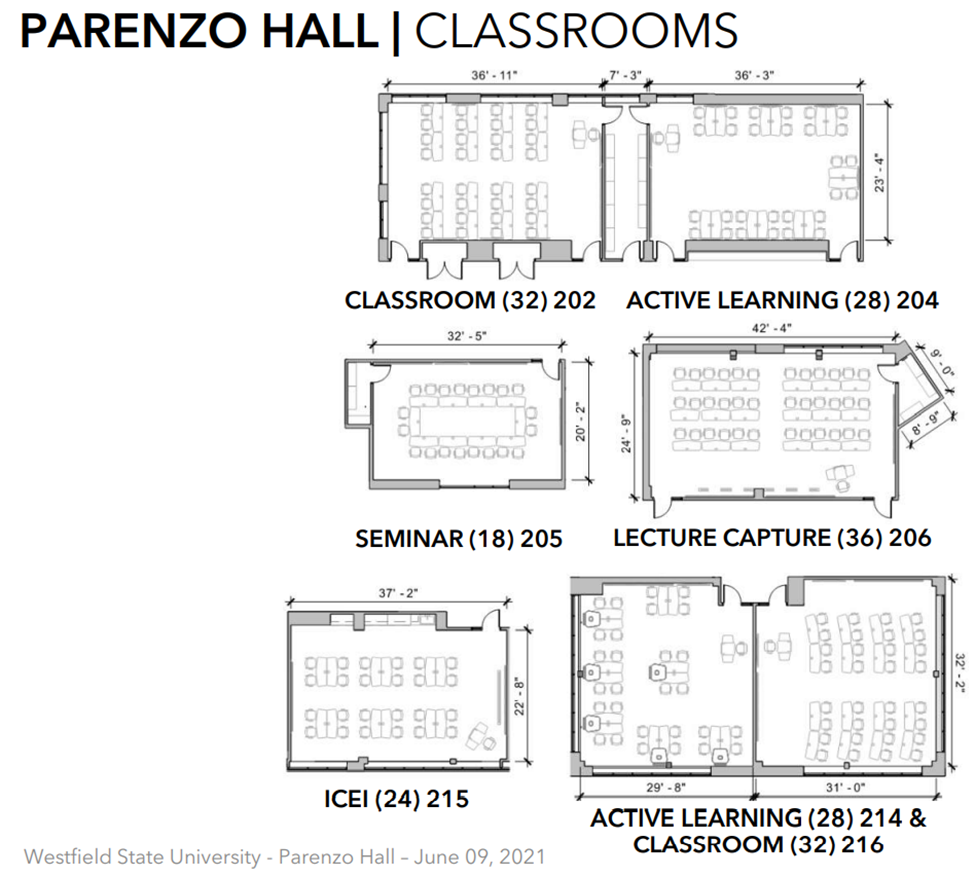 New classroom spaces will be developed with diversity of instruction in mind, as evidenced through the image provided from the Parenzo Hall Renovation Team. Two traditional lecture classrooms will be constructed alongside an additional lecture classroom with lecture capture technologies for synchronous and asynchronous instruction. Two active learning classrooms will be dedicated to courses that emphasize collaboration with peers and project-based learning. A smaller seminar-style classroom will be used for intimate discussions on important political or educational topics. Finally, the renovated Parenzo Hall will have a dedicated classroom for the Inclusive Concurrent Enrollment Initiative (ICEI), which gives high school students between the ages of 18 and 21 with developmental disabilities the chance to experience a rigorous education alongside peers of the same age. Office spaces for Education and Political Science Department faculty and staff will be provided, alongside office space for adjunct professors and faculty/staff unions (APA, AFSCME, and MCSA).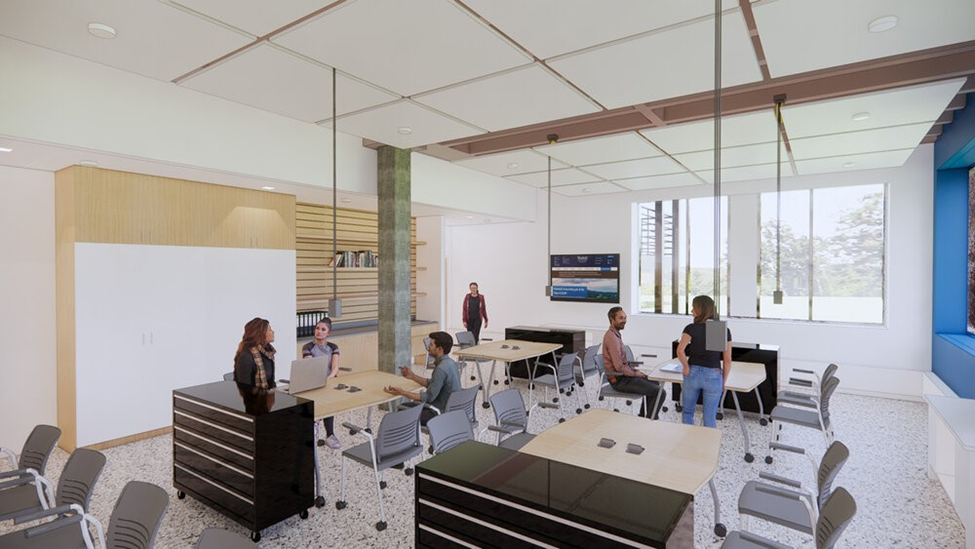 One of the highlights of the project is the development of "a new laboratory space … designed to spark collaboration and foster skill sets that support students throughout their educations and careers." Known as the CoLab, this space will house 3D printers, virtual reality technology, and 3D capture technology that will enable the University to "address the dynamic workforce needs of the region and the Commonwealth." With new academic programs being readily considered by the President and Provost, the CoLab will be an important addition to the campus in their efforts to prepare students for 21st-century careers, including roles in technology and engineering.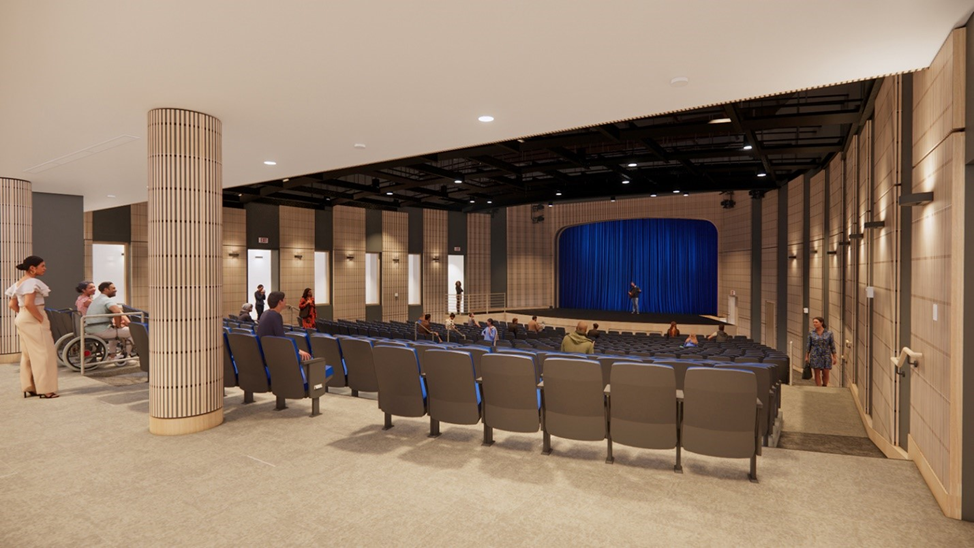 Finally, the project will see the Dever Auditorium renovated to ensure compliance with the Americans with Disabilities Act (ADA) and access to arts-based opportunities for Westfield State University students and the wider community. The Westfield State Foundation utilized the Dever Auditorium seating as part of a fundraising campaign for the project, with donors able to buy seats in the auditorium where a nameplate will be placed as a permanent reminder of the financial sacrifice of many to make this important project a reality.
Despite initially planning to move all departments currently housed in Mod Hall over to the renovated Parenzo Hall and demolish the modular structure, Kelly Holmes of MDS Architects explained that they simply could not find the space to move over all of those departments (Sociology, Hispanic and Interdisciplinary Studies, Ethnic and Gender Studies, and Social Work). Those programs will continue to be housed in Mod Hall for the foreseeable future.
Although students may have to wait until Fall 2023 to utilize the transformed Parenzo Hall, the sounds of hammers and reversing trucks will be welcomed noise on the campus as Westfield State University revitalizes its nest.
Should members of the campus community have any questions, town halls will be set up by the Parenzo Hall Working Team. For further questions, please contact Maureen Socha, Director for Facilities & Capital Planning.